About us
'De Leygraaf Stables' features 25 spacious horse stalls, a 22 x 50 m indoor arena, a 30 x 70 m outdoor arena and a lunge pen, a covered horse walker and a reception area. It also boasts two fine apartments.
Anne-Marie
Anne-Marie hadn't even reached the age of seven when she became passionate about pony riding. With her zeal for the sport, René soon discovered her immense talent and decided to buy her a couple of good ponies. Due to her visibly expanding talent she very soon became a permanent member of the Dutch team, delivering excellent results and winning multiple first prizes in the highest categories at the Limburg and Dutch championships. But Anne-Marie's success did not stop at a national level – she also flourished in the international equestrian scene, celebrating one success after the other in the Pony, Junior and Young Rider categories. The 1999 European Championships in Strömholm, Sweden, brought both individual and team success when Anne-Marie won a bronze medal with the Dutch team and finished 6th individually.
Nowadays Anne-Marie specialises in training and coaching young jumpers. Her intensive and personal training approach brings out the best qualities in the jumper horses, making them easy to handle for our clients. The jumpers are cared for and ridden with passion and as a result we have many returning customers.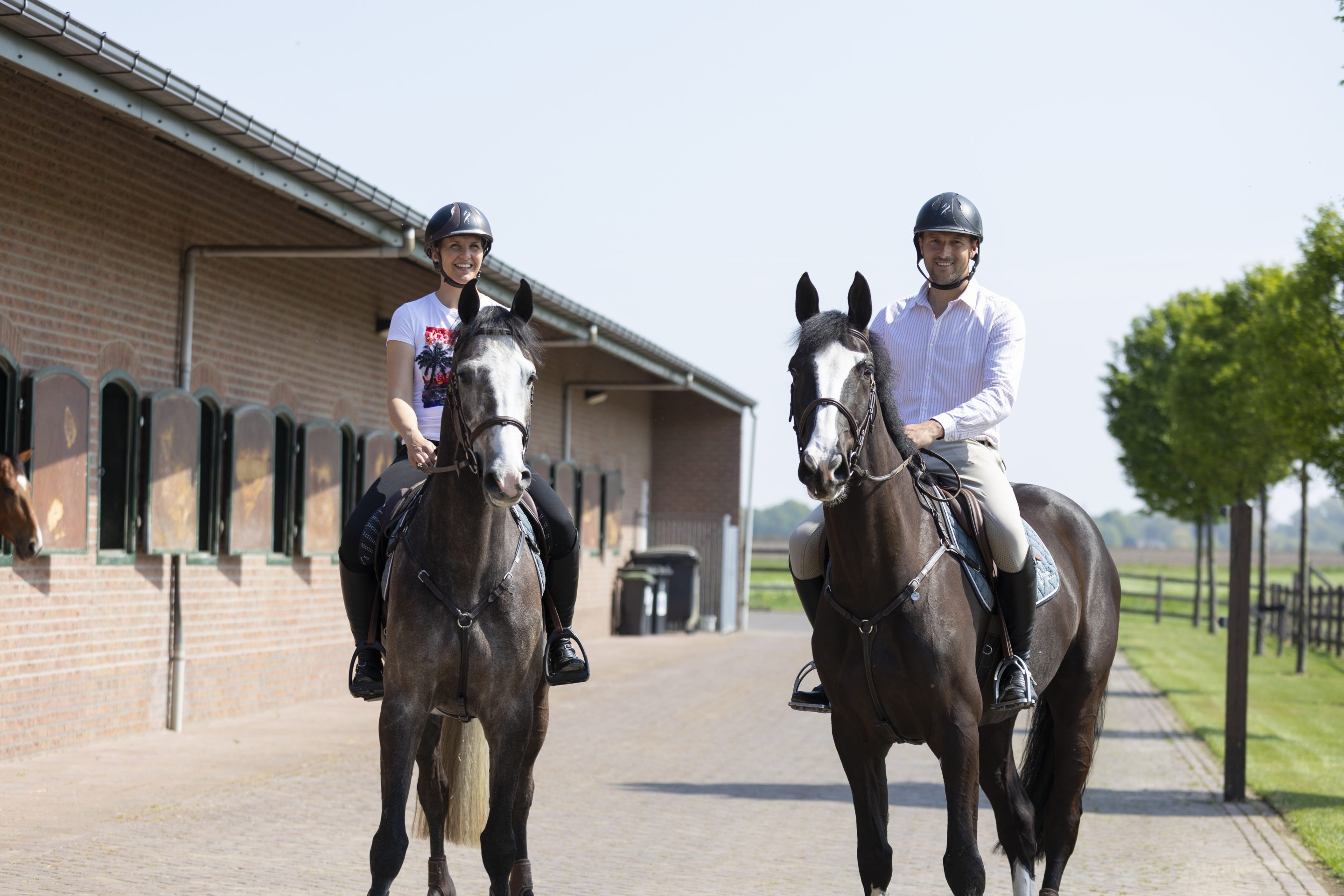 Ruud Vermeulen
From an early age Ruud has been infected with the horse virus. He started riding at a riding school at the age of 5. After a few years he got a grooming pony with which he competed. Ruud wanted to jump but this was not allowed with the ponies, so he ended up with the Paar family. He has released a few horses up to the 1.30m level. At that time, in the weekends and holiday-season, Ruud could be oftend found at Pieter Kersten. Here he learned a lot from the dressage training of horses.
Since 2016 he has been reinforcing Stal de Leygraaf part-time. After working as a primary school teacher for several years, he thought the time was right to continue the business together with his girlfriend Anne-Marie, René and Nel. After all, there is nothing better than turning your hobby into your job.This resulted in him focusing full-time on the company from August 2019. Ruud's previous training comes in handy because, in addition to training horses, he gives many riding lessons.
René Poels
René Poels was born in 1952 into a family steeped into horses and equestrian sports. He started competing at a young age and enjoyed the trade in young jumpers together with his father, Ger Poels. After his marriage to his wife Nelly, the couple took over the dairy cattle farm and René decided that it was time to stop his favourite hobby. But when his two daughters started riding ponies, he became enthralled once again en started a new, successful career with ponies and horses. What began as a hobby has since grown into a genuine and ambitious commercial stud farm: De Leygraaf Stables.